Bio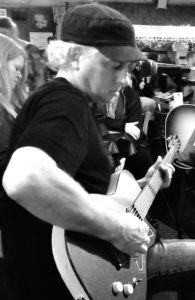 Rafe Van Hoy began his music career as a songwriter, landing his first publishing contract at 17. In the next 7 years he would become one of Nashville's new emerging songwriters with 10 number one songs and as many top 10 singles, along with nearly 200 cuts by other artists. In one three- year period he had between 50 and 60 songs cuts each year. During this early time Rafe also worked as a session musician on many hit records, and then began adding producer to his list of credits, with songwriting always as his first passion.
Rafe has been active and successful as both writer and producer over four decades with credits in several categories and genres of music, including a Grammy Nomination, 11 BMI One Million Airplay Awards, 3 BMI Two Million Airplay Awards and beyond, and songs recorded by George Jones and Tammy Wynette (including the classic "Golden Ring"), Oak Ridge Boys, Michael Martin Murphy's "What's Forever For", John Conlee, Patti Loveless, Brooks and Dunn, Reba McEntire, Leann Rimes, Fleetwood Mac, Diana Ross, Issac Hayes, Paul Carrack, and a long long list of others, including Trick Daddy ("I'm A Thug"). His songs have been on records selling well over 50 million copies.
Rafe loves working in all styles of music and continues to stay current creating music in many formats.